SEOPressor
Summary
Name: SEOPressor
Owner: Daniel Tan
Website: www.seopressor.com
Price: $5 Monthly, $47 one license, or $497 unlimited
Verdict: Not worth it
With this SEOPressor review, I will show you how this Clickbank product is very unnecessary for your blog and why you do not need this to master SEO. I will show you what this product has done to actually hurt my website and I will also give you a couple of tips in regards to SEO which will not require SEOPressor.
I will show you the key features within SEOPressor and how this all can be done without the plugin.  If you are new to online marketing and blogging, this type of stuff will get your attention because it sure did get mine.  Do you think you need SEOPressor?
What is SEOPressor?
---
SeoPressor is an SEO plugin that you can incorporate with your WordPress blog to help put the right keywords in the right places to get higher rankings in the search engines. At least that's their claim to fame.
I have to admit, when I first got SEOPressor, I was pretty amazed with what it did. After spending half the day trying to install this product I was able to see what was necessary for SEO. HOWEVER, that is not what helped me with writing a blog post the right way.
This is what would show up on the right side of your WordPress blog and it would show you what is MISSING to strengthen your SEO. This is also what will make you think it's actually working.
Who is SEOPressor for?
---
SEOPressor is a plugin designed to get any new online marketer's attention. As a new affiliate to the online world, you will be in the hunt for different products to promote and you will probably run into products like SEOPressor in the ClickBank marketplace. Great place to get the very vulnerable.
You will then be attracted to products like SEOPressor, which, instead of promoting,  you will be so curious (very curious) and eventually try it for yourself. Put your credit card away, I'll show you more about SEOPressor.
SEOPressor is Just NOT Natural
---
If you've tried using SEOPressor, you'll see how there isn't enough "keywords" in your post. If you know a thing or two about SEO, you will know of a thing called keyword stuffing.
All SEOPressor made me do was get penalized from Google by "telling me" that my keyword density is too low. I don't know about you, but if you're overusing a keyword, it would be very unnatural.
Can you imagine reading something that has a phrase in every other sentence? That is what SEOPressor will make you do and it will hurt you, not help you. SEOPressor will give you a good understanding about where keywords go, but they actually want you to put keywords everywhere, which will not be good for your blog.
Keyword in H1, H2, and H3 Tag?
With this plugin installed, it will ask you to put a keyword in your H-tags (all of them), which is pretty crazy.  Again, this type of stuff is not natural and it will hurt you .
Although it is very possible to do, it is just so unnatural and all this will do is make your article sound like some kind of robot wrote it. All you need is a great keyword tool, write naturally and everything will fall into place.
SEOPressor Training
---
There is actually some decent training with the SEOPressor product. Upon completion of your purchase of SEOPressor you will be directed to a download and installation page that will walk you through the installation process. Sounds pretty easy huh? Well it is not that easy my friend and it's actually a little complicated.
With a product like this, there won't be much training needed. It's like riding a bike, once you learn how to do it, you will never have to learn it again. Same thing with SEOPressor, once you learn how to place keywords and are familiar with keyword density, you can do this all on your own without SEOPressor.
SeoPressor Configuration
---
After purchasing SEOPressor you will then be guided through the steps of installing the plugin. If I was a complete newbie to blogging I would've been so confused I probably would've gave up. This plugin is a little frustrating and that is not where it ends.
I am a very quick learner and follow instructions very carefully, but with all the running around and nonsense, this was one of the biggest downfalls to this product. Download zip file, enter product key, blah blah blah. I really shake my head to stuff like that.
Installing the plugin is probably the easiest part, getting your receipt number and putting it here and putting it there and adding a domain there. It's like doing the damn hokey pokey!  Don't let this little picture fool you.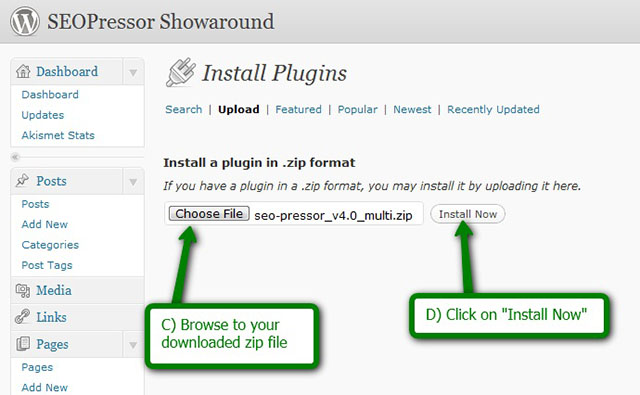 Does Daniel Tan Offer Support
---
This is another thing that really bugged the crap out of me. Getting support from Daniel Tan or anyone that works with him is like talking to a damn wall. I can't stand poor support!
I put in a help desk ticket and even just to submit that was like baking a cake. I actually think baking a cake would be easier than trying to get some help with SEOPRessor.
I waited for a while and I gave up trying to get it back up and running because no one would return my emails. If you plan on getting help from Daniel, or Daniel's aunt's cousin's nephew's friend, then good luck. This kind of stuff is designed this way, so that you can be like me, and forget about it because it's "only" $5.  Get your money back my friend, don't let it go.
The Pros & Cons of SEOPressor
---
Pros:
Low cost
Gives you a basic understanding of SEO
Cons:
Poor customer support
Pain in the butt to configure
Does not work
Can hurt your blog rather than get it traffic
The Price of SEOPressor
---
There is actually different price points with SEOPressor, which is something new to me. You can now purchase a monthly plan of $5 every month which is actually something they just started. I purchased a one time payment of $97 back in the day, but things have improved since then. Here is a breakdown of the pricing for SEOPressor.
You can also buy the pro plan for $97 which is a one time payment lifetime thing.
At a Glance
---
Name:  SEOPressor
Website:   www.seopressor.com
Owner:  Daniel Tan
Price:  $5 monthly, $47 one license, $497 unlimited
Overall Rating:  1.5 stars
Is it Legit?
---
Let's just say that SEOPressor didn't help me get better rankings and it actually hurt me. I deleted the plugin and guess what? I got my traffic back! I really don't know why I tried to fix something when it wasn't even broken to begin with.
Was it the $5? Was it the catchy screenshots? There are many different reasons as to what made me try this product and I don't regret it, because I love trying new things. Before I go, let me give you a couple of pointers that will get your blog the traffic it needs.
Have your keyword in the title
Put your keyword in first paragraph, first sentence preferred and of course make it NATURAL.
Get a

keyword tool

to help with your keyword research to get better rankings.
Blog daily if your blog is new
Blog consistently if you are established
I can't stress about how important it is to keep adding good quality content, but it is very important. If these tips can't help you, then you might want to call Jesus!
Oh, one more thing. Don't let a refund "guarantee" full you. Having a refund guarantee is the best way to get anyone to purchase a product, now how easy will it be to get your money back? Let's just say, good luck with that! I am seriously still paying the $5 monthly BS because I still can't figure out how to cancel it. I cancelled it through Paypal, but it magically started billing me again.
I hope you found my SEOPressor review to be helpful and if you have any comments or concerns, please leave them in the comment section below. I think it's about time I go and cancel my memberships. What do you think? Cheers!
– John
A Work at Home Jobs